Things you need to know about the flu.  https://acaai.org/asthma/conditions/flu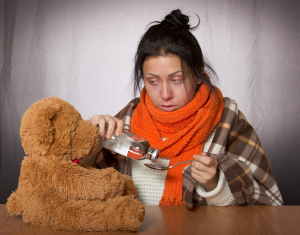 Unlike other viral respiratory infections, such as the common cold, the flu can cause severe illness and life-threatening complications. In 2010 the Centers for Disease Control and Prevention reported that from 1976 to 2007, between 3,000 and 49,000 people died annually from flu-related complications, with the variation in the death toll related to the specific flu strain circulating in a particular year. The risk is greater for very young children, people age 65 and older and people with chronic medical conditions, such as asthma.
Because both asthma and the flu are respiratory conditions, people with asthma may experience more frequent and severe asthma attacks if they get the flu. As a result, it is particularly important for people with asthma to take steps to minimize their risk of exposure.
Fever
Headache
Fatigue
Dry cough
Sore throat
Nasal congestion
Body aches
How does the flu spread?
Influenza is a contagious disease that attacks the respiratory tract, including the nose, throat and lungs. The flu spreads when an infected person coughs or sneezes, spraying droplets into the air and onto people nearby. It can also be spread by touching droplets on another person or object and then touching your own mouth or nose before washing your hands. Infected people are contagious one day before developing symptoms and up to seven days after getting sick.
How can you tell if you have the flu?
Because many flu symptoms are similar to those of other respiratory infections, including the common cold, the only way to be sure it's the flu is to see your doctor. There are tests that can determine if you have the flu as long as you are tested within the first two or three days after your symptoms begin. In general, if your respiratory symptoms are accompanied by sudden onset of body aches and fever and occur during flu season, suspect the flu.
When is flu season?
Peak flu season months in the U.S. are December, January and February; flu season can last from November through March. Fortunately for people living in most parts of the U.S., flu season doesn't correspond to periods of peak pollen counts, which can trigger and aggravate asthma in those who are allergic.
How can you prevent the flu?
The best way to prevent the flu is to get vaccinated each fall. This is particularly important for those who have chronic respiratory conditions, such as asthma. The vaccine triggers the development of antibodies that fight the flu virus when the body is exposed to it. There are two types of flu vaccines: injection (the flu shot) and nasal spray.
Those who have asthma or other chronic medical conditions should get the flu shot, which is an inactivated vaccine (meaning that it contains killed virus). The best time to get it is in October or November, as it typically takes about two weeks for sufficient antibodies to develop.
The flu shot is approved for use in very young children, including those with chronic medical conditions, such as asthma.
Allergists urge everyone who has asthma to get the flu vaccination as part of his or her routine care. Flu viruses change from year to year, so being vaccinated one year will not necessarily protect you from different flu viruses in subsequent years.
The second type of flu vaccine, administered through a nasal spray, contains attenuated (weakened) live viruses. It is approved for use only by healthy people ages 5 to 49. Because it contains live viruses, the nasal-spray flu vaccine should not be used in people with asthma, as it can provoke or aggravate symptoms.
Most varieties of the flu vaccine contain small amounts of egg protein. An updated guideline from the Joint Task Force on Practice Parameters stresses that no special precautions are needed or recommended for those with egg allergy when it comes to the flu vaccine. There is no longer a need to:
See an allergy specialist for the flu shot.
Give special flu shots that don't contain traces of egg.
Require longer-than-normal observation periods after the shot, or
Even ask about egg allergy before giving the vaccine.
If the vaccine is age-appropriate, it can be used for anyone with or without egg allergy.
What should you do if you get the flu?
The best strategy for recovering from the flu is to rest, drink plenty of fluids and avoid using alcohol and tobacco. Over-the-counter medications can relieve the symptoms of the flu, but never give aspirin to children or teenagers who have symptoms of the flu — particularly fever — without consulting a doctor first. Aspirin use in children and teenagers with flu-like symptoms has been linked to Reye's syndrome, a serious condition that causes swelling in the liver and brain.
Your doctor also may prescribe an antiviral medication, such as Tamiflu (oseltamivir phosphate) or Relenza (zanamivir), to treat the flu, but these are effective only if started within the first two days of experiencing symptoms.
Citation:  acaai.org/asthma/conditions
http://www.parkallergy.com/wp-content/uploads/2018/11/PAC-Color-Logo-851x654-300x231.png
0
0
Michael Park
http://www.parkallergy.com/wp-content/uploads/2018/11/PAC-Color-Logo-851x654-300x231.png
Michael Park
2018-12-21 11:39:17
2018-12-21 11:39:17
The Flu