Please check back with us for the latest news, announcements, and updates at Park Allergy Center! We regularly update our site with the latest allergy news and tips.
https://www.medscape.com/viewarticle/906135
Megan Brooks
December 2018
More than 40% of Americans have not been vaccinated against influenza this year and don't plan to get vaccinated, despite repeated warnings about the potential dangers of the flu, as well as last year's record-high number of deaths from flu, a new survey indicates.
The survey included 1202 interviews with a nationally representative sample of adults aged 18 years and older. It was conducted between November 14 and 19 by the National Opinion Research Center (NORC) at the University of Chicago.
Results showed that 43% of adults had received the flu shot and that 14% had not yet been vaccinated but intended to get vaccinated this season. Yet, 41% of adults surveyed said they had not been vaccinated and did not intend to get vaccinated. About 2% were undecided about getting the flu shot or did not respond to the question.
The highest vaccination rate (62%) was for adults older than 60 years, a group at higher risk for flu-related complications. However, 1 in 4 (24%) people aged 60 years and older did not plan to get vaccinated this year.
Adults younger than 45 were the least likely to report being vaccinated. Roughly half of this group indicated that they did not plan to receive a vaccination this year.
Among adults who have children younger than 18 years living in their home, 39% said they do not vaccinate their children.
Misconceptions Common
The top reasons people cited for not getting vaccinated against the flu were concern about side effects from the vaccine (36%), concern about getting the flu from the vaccine (31%), and because they never get the flu or they do not think the flu vaccine works (31%).
"Unfortunately, many people are still not getting flu shots due to broader misconceptions about the value of receiving a flu shot and concerns about the safety and efficacy of the vaccines," Caitlin Oppenheimer, MPH, senior vice president of public health research at NORC, said in a news release.
The Centers for Disease Control and Prevention (CDC) recommends routine annual influenza vaccination for all persons aged 6 months or older who do not have contraindications. The CDC estimates that flu vaccination coverage among adults was 37% for the 2017-2018 season and 43% for the 2016-2017 season.
Last year's flu season was particularly severe, with a record-breaking 900,000 hospitalizations and more than 80,000 deaths in the United States. Although most flu deaths were in adults older than 65, the flu also killed 180 children and teenagers.
Many survey respondents did not know this. About two thirds (63%) incorrectly believed that last year's season was about the same as usual, was less severe than usual, or they did not know. People who had already received their flu shot for this season were more aware of the severity of last year's flu season; 43% of people who had already been vaccinated correctly identified last year's season as being more severe than usual, compared to only 30% of people who do not plan to get vaccinated.
"Flu vaccination helps prevent people from getting sick with the flu and reduces the severity of illness for those who do get sick. Widespread vaccination also helps create 'herd immunity' that protects vulnerable groups who are prevented from getting vaccinated," Caroline Pearson, BA, senior fellow at NORC, said in news release. "Unfortunately, over half of all adults are currently unvaccinated, with four in 10 not intending to get vaccinated, placing themselves and those around them at risk."
Cite this article: Almost Half of Americans to Skip Flu Shot This Year – Medscape – Dec 06, 2018.
/
0 Comments
/
by Michael Park
http://www.parkallergy.com/wp-content/uploads/2018/11/PAC-Color-Logo-851x654-300x231.png
0
0
Michael Park
http://www.parkallergy.com/wp-content/uploads/2018/11/PAC-Color-Logo-851x654-300x231.png
Michael Park
2018-12-30 21:56:20
2018-12-30 21:56:20
Almost Half of Americans to Skip Flu Shot This Year
Things you need to know about the flu.  https://acaai.org/asthma/conditions/flu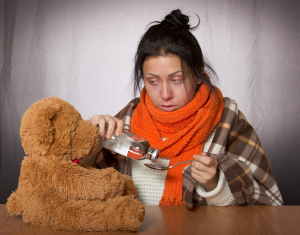 Unlike other viral respiratory infections, such as the common cold, the flu can cause severe illness and life-threatening complications. In 2010 the Centers for Disease Control and Prevention reported that from 1976 to 2007, between 3,000 and 49,000 people died annually from flu-related complications, with the variation in the death toll related to the specific flu strain circulating in a particular year. The risk is greater for very young children, people age 65 and older and people with chronic medical conditions, such as asthma.
Because both asthma and the flu are respiratory conditions, people with asthma may experience more frequent and severe asthma attacks if they get the flu. As a result, it is particularly important for people with asthma to take steps to minimize their risk of exposure.
Fever
Headache
Fatigue
Dry cough
Sore throat
Nasal congestion
Body aches
How does the flu spread?
Influenza is a contagious disease that attacks the respiratory tract, including the nose, throat and lungs. The flu spreads when an infected person coughs or sneezes, spraying droplets into the air and onto people nearby. It can also be spread by touching droplets on another person or object and then touching your own mouth or nose before washing your hands. Infected people are contagious one day before developing symptoms and up to seven days after getting sick.
How can you tell if you have the flu?
Because many flu symptoms are similar to those of other respiratory infections, including the common cold, the only way to be sure it's the flu is to see your doctor. There are tests that can determine if you have the flu as long as you are tested within the first two or three days after your symptoms begin. In general, if your respiratory symptoms are accompanied by sudden onset of body aches and fever and occur during flu season, suspect the flu.
When is flu season?
Peak flu season months in the U.S. are December, January and February; flu season can last from November through March. Fortunately for people living in most parts of the U.S., flu season doesn't correspond to periods of peak pollen counts, which can trigger and aggravate asthma in those who are allergic.
How can you prevent the flu?
The best way to prevent the flu is to get vaccinated each fall. This is particularly important for those who have chronic respiratory conditions, such as asthma. The vaccine triggers the development of antibodies that fight the flu virus when the body is exposed to it. There are two types of flu vaccines: injection (the flu shot) and nasal spray.
Those who have asthma or other chronic medical conditions should get the flu shot, which is an inactivated vaccine (meaning that it contains killed virus). The best time to get it is in October or November, as it typically takes about two weeks for sufficient antibodies to develop.
The flu shot is approved for use in very young children, including those with chronic medical conditions, such as asthma.
Allergists urge everyone who has asthma to get the flu vaccination as part of his or her routine care. Flu viruses change from year to year, so being vaccinated one year will not necessarily protect you from different flu viruses in subsequent years.
The second type of flu vaccine, administered through a nasal spray, contains attenuated (weakened) live viruses. It is approved for use only by healthy people ages 5 to 49. Because it contains live viruses, the nasal-spray flu vaccine should not be used in people with asthma, as it can provoke or aggravate symptoms.
Most varieties of the flu vaccine contain small amounts of egg protein. An updated guideline from the Joint Task Force on Practice Parameters stresses that no special precautions are needed or recommended for those with egg allergy when it comes to the flu vaccine. There is no longer a need to:
See an allergy specialist for the flu shot.
Give special flu shots that don't contain traces of egg.
Require longer-than-normal observation periods after the shot, or
Even ask about egg allergy before giving the vaccine.
If the vaccine is age-appropriate, it can be used for anyone with or without egg allergy.
What should you do if you get the flu?
The best strategy for recovering from the flu is to rest, drink plenty of fluids and avoid using alcohol and tobacco. Over-the-counter medications can relieve the symptoms of the flu, but never give aspirin to children or teenagers who have symptoms of the flu — particularly fever — without consulting a doctor first. Aspirin use in children and teenagers with flu-like symptoms has been linked to Reye's syndrome, a serious condition that causes swelling in the liver and brain.
Your doctor also may prescribe an antiviral medication, such as Tamiflu (oseltamivir phosphate) or Relenza (zanamivir), to treat the flu, but these are effective only if started within the first two days of experiencing symptoms.
Citation:  acaai.org/asthma/conditions
/
0 Comments
/
by Michael Park
http://www.parkallergy.com/wp-content/uploads/2018/11/PAC-Color-Logo-851x654-300x231.png
0
0
Michael Park
http://www.parkallergy.com/wp-content/uploads/2018/11/PAC-Color-Logo-851x654-300x231.png
Michael Park
2018-12-21 11:39:17
2018-12-21 11:39:17
The Flu
Based on our research, this is the latest summary of currently available versions of injectable epinephrine in the United States as of December 2018.
Auvi-Q (Kaleo) $700
EpiPen (Mylan) $600
generic EpiPen (Mylan) $300
generic EpiPen (Teva) $300
generic Adrenaclick (Impax) $110
Prices reflect the LIST PRICE for a 2-pack and do not include coupons or other special discounts.
/
0 Comments
/
by Michael Park
http://www.parkallergy.com/wp-content/uploads/2018/11/PAC-Color-Logo-851x654-300x231.png
0
0
Michael Park
http://www.parkallergy.com/wp-content/uploads/2018/11/PAC-Color-Logo-851x654-300x231.png
Michael Park
2018-12-15 12:39:36
2018-12-15 12:40:41
Currently Available Versions of Injectable Epinephrine in the US