Please check back with us for the latest news, announcements, and updates at Park Allergy Center! We regularly update our site with the latest allergy news and tips.
In Part 1, I discussed oral antihistamines.  In this post, I will review OTC allergy nasal sprays.  The main OTC options are Nasacort (triamcinolone), Flonase (fluticasone propionate), Rhinocort (budesonide), and Flonase Sensimist (fluticasone furoate).  These allergy nasal sprays are far more effective compared to oral antihistamines when it comes to treating classic allergy symptoms.  So, if you have tried oral antihistamines but still suffer from allergy symptoms, you should try an allergy nasal spray.  Further, they are effective for nasal stuffiness, whereas oral antihistamines are not.  All of the 4 products above are topical steroid sprays.  They work best if used on a daily basis.  They are not as effective if used intermittently.  Further, they usually become more effective after 3-4 days of use.  Even though they are steroids, they are safe and most are FDA approved down to the age of 2 (Rhinocort is approved down to the age of 6).
In general, I usually recommend Nasacort as I feel it offers the best combination of effectiveness and tolerability.  Nasacort is odorless and gentle on the mucous membranes.  Flonase is effective but not as well tolerated as Nasacort.  It has an odor (artificial flowers) and seems to cause more irritation compared to Nasacort.  Rhinocort is effective, has a mild odor, and is fairly well tolerated.  Flonase Sensimist is the best tolerated of the four, as it is odorless and has the smallest volume compared to the rest.  However, that small volume comes with a price – less medication.  Flonase Sensimist only contains 27.5 mcg of medication per spray compared to 50 mcg for Flonase and 55mcg for Nasacort.
So, if your allergy pill is not doing the job, give an allergy nasal spray a try.
Michael Park, MD
/
0 Comments
/
by Michael Park
http://www.parkallergy.com/wp-content/uploads/2018/11/PAC-Color-Logo-851x654-300x231.png
0
0
Michael Park
http://www.parkallergy.com/wp-content/uploads/2018/11/PAC-Color-Logo-851x654-300x231.png
Michael Park
2019-04-20 08:05:27
2019-04-20 08:23:02
ABCs of over-the-counter allergy medications – Part 2
Over the past 5 years, most of the best allergy medications have gone from prescription only to over-the-counter.  So, patients no longer need to go to a physician to receive good, basic treatment for nasal, eye, and skin allergy symptoms.  However, there are a lot of options out there, so it can get confusing.  I will try to clarify things for you.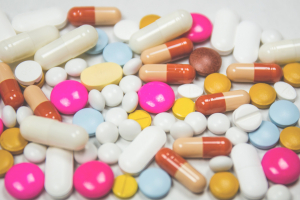 There are 3 basic categories of OTC allergy medications:  oral antihistamines, nasal steroid sprays, and oral decongestants.  In today's post, I will review antihistamines.  In future posts, I will review nasal steroid sprays and oral decongestants.
Oral antihistamines are the most familiar type allergy medication to most people.  Such medications include Benadryl, Claritin, Zyrtec, Xyzal, and Allegra.  Like the name suggests, antihistamines block the effect of histamine – the primary substance involved in causing allergy symptoms.  In general, antihistamines are effective in treating itch, sneeze, and drainage.  They are not effective in treating nasal stuffiness.
For adults and larger children, I usually recommend Allegra (fexofenadine) 180mg daily as needed.  This antihistamine is good, strong, and has the fewest side effects in the antihistamine class.  For smaller children who cannot swallow pills, I usually recommend Claritin or Zyrtec.  The dose depends on the size of the child and the clinical situation.
For mild allergies, antihistamines are a good first option.  However, if they are not effective enough, you should try a steroid nasal spray – the topic of the next post coming soon.
Michael Park, MD
/
0 Comments
/
by Michael Park
http://www.parkallergy.com/wp-content/uploads/2018/11/PAC-Color-Logo-851x654-300x231.png
0
0
Michael Park
http://www.parkallergy.com/wp-content/uploads/2018/11/PAC-Color-Logo-851x654-300x231.png
Michael Park
2019-04-12 13:46:34
2019-04-12 13:46:34
ABCs of over-the-counter allergy medications - Part 1
ARLINGTON HEIGHTS, IL – (APRIL 2, 2019) – Allergy shots (subcutaneous immunotherapy or SCIT) have been available for more than 100 years. Allergy tablets (sublingual immunotherapy or SLIT) have been approved by the Food and Drug Administration (FDA) for use in the United States for four years. A new study in Annals of Allergy, Asthma and Immunology, the scientific journal of the American College of Allergy, Asthma and Immunology (ACAAI) shows that most American allergists now prescribe the tablets for some patients to treat certain allergies. The study was developed by the ACAAI Immunotherapy and Diagnostics Committee.
"Five years ago, allergy tablets hadn't been approved by the FDA and weren't being prescribed for people with allergies in the U.S.," said allergist Anita Sivam, DO, ACAAI member and lead author. "Allergists were prescribing allergy shots because they were, and continue to be, a proven effective treatment. Once allergy tablets were approved in 2014, allergists began prescribing them for their patients. Of the 268 US allergists who responded to our survey in 2018, 197 (73 percent) reported prescribing allergy tablets."
Allergy tablets are available to treat northern grass pollens, Timothy grass pollen, ragweed and house dust mite. The northern grass pollens and the Timothy grass pollen tablets are both approved down to age 5 years and the other two for those 18 years and older. The tablets differ from allergy shots because after the first dose is given in an allergist's office, they can be taken at home. The tablets are placed under the tongue and dissolve.
In immunotherapy, the regular administration of the allergen doses causes your immune system to become less sensitive to the allergen. Reducing your sensitivity reduces your allergy symptoms.
"One of the big differences between shots and tablets is that shots are formulated by your allergist to treat your specific allergy or allergies," says allergist Mike Tankersley, MD, MBA, vice-chair of the ACAAI Immunotherapy and Diagnostics Committee and co-author of the study. "Tablets target a single allergy, and our study found that was the main barrier for allergists in prescribing tablets. If a patient has more than one allergy and is able to travel regularly to receive allergy shots, an allergist may recommend shots over tablets."
Both shots and tablets – the only FDA-approved immunotherapy treatments for allergies – are successful because they work by changing your immune system. They decrease some cells, chemicals and antibodies in your system that cause allergy symptoms and increase others that improve health. Allergy shots and tablets allow you to encounter your allergens without having a reaction. Immunotherapy also reduces the inflammation that characterizes hay fever and asthma, so many sufferers find their symptoms improve.
To find an allergist near you who can help create a personal immunotherapy plan for your allergies or asthma and help you lead the life you want to live, use the ACAAI allergist locator.
Citation:  https://acaai.org/news/new-research-shows-73-percent-allergists-prescribe-under-tongue-allergy-tablets?
Park Allergy Center provides both oral drops or tablets for allergy immunotherapy treatment.
/
0 Comments
/
by Michael Park
http://www.parkallergy.com/wp-content/uploads/2018/11/PAC-Color-Logo-851x654-300x231.png
0
0
Michael Park
http://www.parkallergy.com/wp-content/uploads/2018/11/PAC-Color-Logo-851x654-300x231.png
Michael Park
2019-04-07 21:13:44
2019-04-07 21:13:44
New research shows 73 percent of allergists prescribe under-the-tongue allergy tablets